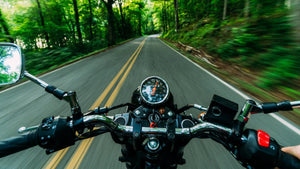 Top 5 Motorbike Helmets by Typhoon Helmets in 2023
Whether you're a beginner just getting comfortable riding a motorcycle/dirt bike or an advanced rider that knows their way around the road or trail - you always need a helmet. A high-quality helmet protects you from harm when you're out on the road and gives you the reassurance you need to ride for miles. However, when shopping for a new helmet, you may feel overwhelmed by the options, features, and styles that are available on the market.
At Typhoon Helmets, we offer a variety of helmets for every type of riding. From safe and stylish designs for motocross to durable and affordable solutions for off-roading - we're the one-stop shop for all helmets. While all of our helmets are made from high-quality materials and feature the latest advanced safety technologies - they aren't suitable for every terrain or type of riding.
We're here to walk you through the top five motorbike helmets we have at Typhoon Helmets, so you can find a comfortable, safe, and stylish solution.
Let's take a closer look:
If you're looking for a safe, reliable solution - you can't go wrong with the SA2020 Snell Helmet. This helmet features a sleek, modern design and is made of carbon fiber. The carbon fiber helps reduce the overall weight and provides next-level impact protection.
The Snell Helmet also has a comfortable, fire-retardant padded interior, HANS threaded inserts in the shell, channel vents, and exhaust vents for optimal airflow. The SA2020 also meets Snell SA2020 standards, so it's a suitable option for all types of riding.
If you need a helmet for off-roading, motocross, or dirt bikes, you'll need a lightweight solution with optimal impact protection. The best fit for motocross and dirt biking is our K27 Adult Motorcross Helmet. This off-roading helmet ensures you don't need to sacrifice style for comfort.
The stylish design is paired with unparalleled protection and comfort - everything you need in a helmet. Our Adult Motorcross Helme also meets Department of Transportation (DOT FMVSS218) requirements and can fit any MX-style goggles.
Our Adult Snell Helmet is our "best bang for your buck" solution that still provides a superior level of protection. The sleek, modern shell design is paired with a carbon fiber and fiberglass composite that meets Snell SA2020 standards so you can ride with the peace of mind you need while on the road.
This helmet also features back padded lining inserts, ventilation channels, and silicone eye port gasket seals. With this option, you can receive all the outstanding impact protection you need for less than $200. This helmet offers all of the same protections as the SA2020 Carbon Fiber at a fraction of the cost making this helmet a remarkable value.
When looking for a street bike helmet, you want to ensure it meets DOT standards, provides a comfortable fit, and has proper ventilation. This option has all that and more. The Typhoon TH158 full-face dual visor modular helmet is the perfect solution for riders who need a lightweight, everyday helmet to pair with their street bike.
This helmet features a retractable sun visor, Bluetooth speaker pockets, an anti-scratch impact-resistant clear face shield, and an advanced front-flow ventilation system with channels for maximum venting and comfort. A clear face shield is a must-have if you're riding a street bike because they protect your eyes and face from air, dirt, bugs, and grime while you're out on the street.
Our Typhoon TH129 full-face helmet is a lightweight, budget-friendly helmet great for everyday use. Whether you're looking for a go-to helmet to take on your daily commute or need something to withstand a weekend-long ride to the countryside - you can count on this helmet.
The sturdy design features a moisture-wicking liner, adjustable ventilation, and an impact-resistant clear face shield. This helmet has all the features you need for a safe, comfortable ride for under $100.
Stay Protected With Typhoon Helmets
For over 20 years, the team at Typhoon Helmets has been designing and manufacturing safe, stylish, comfortable, and affordable helmets. We are dedicated to creating helmets that keep you safe and protected while on the road - without sacrificing style. All of our solutions provide a high-quality fit and are designed to protect you from any situations that may occur when you're on the road.
Ready to upgrade to a Typhoon Helmet?
Start exploring our massive collection of off-roading, street, and motocross helmets today
.
---