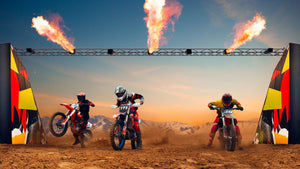 Choose the Right Motocross Helmet: A Guide for Dirt Bike Riders
Are you looking to upgrade your current off-road bike helmet or get into your very first dirt bike helmet but have no idea where to start? Our guide will help you to weigh every factor that you need to know to get the perfect motocross or dirt bike helmet for your specific needs.
Whether you ride a dirt bike on an occasional trail ride or are a professional motocross rider - you'll need a helmet you can trust. Without a comfortable, protective helmet you can trust, you put yourself at serious risk every time you ride or jump on your bike.
However, as you may already know, there are many motocross and dirt bike helmets available on the market. It can be overwhelming to shift through the different styles, features, and fits to find the perfect one for you.
We put together a dirt bike helmet buying guide so you can find the perfect solution that meets the needs of your riding style.
Let's take a closer look:
1. Types of motocross helmets
When shopping for a new motorbike helmet, there are three typical types of helmets to consider. These include full-face, modular, and off-roading helmets. All three types provide a high level of impact-resistant protection so you can have the peace of mind you need to ride confidently.
Here are the main differences:
Adult Full-Face Helmets: Full-face helmets feature retractable tinted sun visors and a face shield. These are great solutions for street bikes because they'll protect your face from dirt, grime, and bugs on the open roads or streets and are a great option for the occasional trail ride and ride on the street.
Modular Helmets: Modular has the features of a full-face helmet with the convince of an open-face helmet. These are great for anyone riding a street bike or dirt bike and need a button to easily open and close the shield to communicate with others while riding. Another great option for trail riding and street riding alike.
Off-roading helmets: These helmets don't have a shield and are designed to be worn with goggles. Most off-roading helmets feature removable liners, making them easier to clean after a day of off-roading, and an adjustable chin bar. All Typhoon off-road helmets include a 3 point sun visor for added strength and style. Off-roading helmets are the typical design you see worn by dirt bike and motocross riders. These are the best option if you are looking for a designated off-road and motocross helmet.
2. Factors to consider when choosing a motocross helmet
When using a dirt bike helmet buying guide, there are four key factors you'll want to keep in mind to ensure you find the right one.
Here's a rundown:
Your level of experience
Are you a beginner who's just started to ride? Are you an advanced rider that rides your bike professionally? Maybe, you only go out with your friends on the weekend. This will help you decide how much money you should put towards the helmet.
Budget
How much are you willing to spend on a helmet? Is this an investment you want to last for a few years? Are you just looking for something to have around the house when you're planning a weekend ride with friends? If you're using a helmet more frequently, you may consider spending a little extra and investing in a higher-quality option with more features.
Certifications
All helmets need to have a DOT, SNELL, or ECE  approved. This ensures they are up to code and meet safety standards. All Typhoon Helmets are DOT-certified options and offer exceptional safety.
Style
You don't need to sacrifice style for comfort. With the right helmet, you can have the best of both worlds. Consider what color, style, and look will pair well with your gear and bike. Typhoon Helmets are made with style in mind. Our helmets come in a variety of colors and styles to ensure you are always looking your best on the motocross track.
3. How to properly fit a motocross helmet
The helmet you choose needs to have a comfortable fit. You don't want the helmet to be too tight or too loose. Most helmets come in a range of sizes from XS to 2XL.
To measure your head, you'll want to take a tape measure and wrap it around your head at least one inch above your eyebrows and above the ears. This will provide you with the circumference of your head. You can then check the helmet sizing chart in the product description for the helmet you like and compare it with your measurement to find your perfect fit.
As a rule of thumb - This will only provide you with a rough estimate. Everyone's head is different, and so are the helmets.
4. The importance of wearing a motocross helmet
If you're an avid dirt bike rider and you aren't wearing a helmet every time you ride or jump your bike - you're putting yourself at risk. Helmets provide necessary protection in the case of impact and can save your life in an emergency. When you invest in a high-quality helmet, you also reduce your risk of brain injuries and damage.
5. Typhoon Helmets offers motocross helmets that riders trust.
At Typhoon Helmets, we have a wide variety of helmets for every riding style. Whether you're looking for a stylish and comfortable street bike helmet for your daily commute to work or a true off-roading motocross-style helmet for your weekend festivities - we have what you need.
Explore our collection of
motocross and off-road helmets
today to find a fit that's right for you.
---