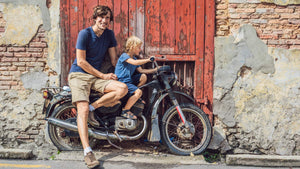 Celebrating Father's Day: A Tribute to Motocross Dads
At Typhoon Helmets, we believe that Father's Day is an important occasion to honor and pay tribute to the incredible motocross dads who have had a profound impact on our lives. They have not only shaped us but also shared their love for the sport, creating lasting memories and teaching us valuable life lessons. In this blog post, we wholeheartedly celebrate and honor those motocross dads who have fueled our passion, inspired our dreams, and left an indelible mark on our journey in the thrilling world of motocross.
Motocross Dads: Shaping Lives On and Off the Track
Motocross dads create an extraordinary bond with their children through their shared love for the sport. This connection goes beyond the track, strengthening the father-child relationship and establishing a deep and lasting connection. These incredible dads play a pivotal role in introducing their children to motocross, nurturing their passion, and building a cherished family tradition of motocross enthusiasts. Their dedication and love for the sport become a legacy that transcends generations.
Motocross dads are not just mentors on the track; they are the ultimate teachers of essential life skills. In the world of motocross, they impart values such as discipline, perseverance, and teamwork to their children. Through the challenges faced in motocross, these remarkable dads teach their kids the importance of resilience and the ability to surpass their own limits. They inspire their children to overcome obstacles both in the sport and in life, instilling in them the belief that they can achieve greatness in all aspects of their lives. Motocross dads are not only mentors, coaches, and role models; they are also experts at having a blast while tearing up the dirt, embodying the spirit of adventure and excitement that motocross brings.
Unwavering Support: The Motocross Dad's Role
Motocross dads are the true heroes of the track, always ready to fuel their kids' motocross dreams with unwavering support. They stand tall as their children's biggest fans, cheering them on at every twist and turn. Motocross dads go above and beyond, dedicating their time and energy to ensure their children's success and happiness in the sport. From organizing epic races to handling the nitty-gritty logistics and even maintaining those bikes like true mechanics, their selflessness creates a nurturing environment where their kids can thrive and conquer the motocross world.
Making Father's Day Memorable: Gift Ideas for Motocross Dads
Let's gear up for an epic Father's Day celebration that will leave our motocross dads grinning from ear to ear. At Typhoon Helmets, we've got everything you need to make this celebration truly epic, with a range of gear and accessories tailored to their motocross passion. Get ready to rev up the excitement with our selection of sleek and reliable motocross helmets. As we celebrate these extraordinary dads, let's make their Father's Day unforgettable by surprising them with a gift that not only reminds them of the pride and admiration we hold for their motocross awesomeness but also ensures their safety on every thrilling ride. With Typhoon Helmets, we've got you covered, delivering the perfect blend of style, and protection.
Motocross-Themed Activities and Outings: Creating Lasting Memories
Take the Father's Day celebrations to the next level by planning motocross-themed activities and outings that will make their hearts race with excitement. How about hitting the trails together, exploring new tracks, and conquering challenging terrain? Or maybe you can attend thrilling motocross events as a family, immersing yourselves in the electrifying atmosphere of roaring engines and dirt-spraying action. And if you're looking for a more laid-back option, why not spend quality time reminiscing about your favorite motocross moments, swapping stories, and reliving those heart-pounding adventures? Whatever you choose, these shared experiences will create memories that will last a lifetime and strengthen the unique connection you share as motocross enthusiasts.
Happy Father's Day to the Motocross Dads: Honoring their Love and Guidance
On this special day, let's raise our helmets and honor the incredible motocross dads who have embraced our passion, fueled our dreams, and helped shape us into the riders and individuals we are today. Happy Father's Day to all the motocross dads out there! Your love, support, and guidance make a significant difference in our lives both on and off the track. At Typhoon Helmets, we stand alongside you, celebrating these legendary motocross dads who have left tire tracks of inspiration and adventure in our motocross journey. So, let's keep the engines roaring and the dirt flying as we pay tribute to these extraordinary motocross dads who have made our hearts race with joy!
Celebrate Father's Day in style with
Typhoon Helmets
! Honor the motocross dads who have made a lasting impact on your life by surprising them with the perfect gift from our selection of
sleek and reliable motocross helmets
. Show your admiration and ensure their safety on every thrilling ride. With Typhoon Helmets, you can make this Father's Day truly unforgettable. Gear up and give them a gift that reflects their motocross awesomeness while providing the perfect blend of style and protection.
Shop now at Typhoon Helmets
and celebrate the legendary motocross dads in your life!
---