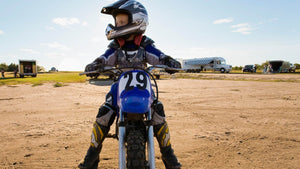 Best Dirt Bike for Kids: Buyers Guide
Riding dirt bikes is an exciting activity, especially for kids. When it comes to choosing the right dirt bike for your child, there are a few things you need to keep in mind to make sure they get the most out of the experience while staying safe.
There are a lot of different types of dirt bikes available out there, so it can be a little overwhelming at first trying to decide what the best option is for your child. This guide will take a closer look at some of the different options available so you can make an informed decision about which one to purchase.
Factors to Consider When Buying a Dirt Bike for Kids
When you're shopping for a great kid's dirt bike, there are a handful of factors that you should keep in mind to ensure you choose the best bike for your child. Some things to consider include age and size, skill level, bike power, and the type of terrain and riding they'll do.
Age and Size
The first thing you need to consider is your child's age and size. You'll want a bike that will be suitable for their age and skill level so that they will be able to handle the bike and keep their balance. Beginners should start with a smaller bike than an experienced rider might choose, as this will give them more time to learn the ropes and develop their skills before upgrading to something a little bigger.
Skill Level
The next thing you need to consider is the skill level of your child. Some bikes are suitable for beginners while others are designed for more experienced riders. Not only will choosing a bike that's good for your child's experience level make learning a more fun experience, but it will also make it a much safer one.
Bike Power
Another important factor to consider is the power of the bike. Children of different age levels will have different needs when it comes to the power of the bike. Younger children will need less power in order to stay balanced on the bike and not get hurt, while older children may need more power to help them go faster as they quickly develop their skills.
Type of Terrain
You will also want to consider the type of trail you'll be riding on when choosing your child's bike. If you plan to ride on flat terrain or trails without much elevation change, then you don't need a powerful bike with a lot of torque. On the other hand, if you will be riding through rougher or more technical terrain with a lot of hills, then a more powerful bike with more torque might be a better option.
If your child is just learning, then their experience level will dictate what kind of terrain they'll be riding on as well.
Different Types of Dirt Bikes for Kids
One of the first things you need to do when choosing your child's dirt bike is to decide what type of terrain they will be riding it on. This, along with other factors, will help you better determine what kind of bike you need.
There are different kinds of dirt bikes that are designed for different terrains and riding styles.
Trail Dirt Bikes
These dirt bikes are primarily designed for use on trails and other off-road conditions. They are built to be lightweight and easy to ride. They tend to be much smaller than other dirt bikes, so they are best for younger riders and shorter riders.
Motocross Bikes
Motocross bikes are designed to be used in motocross races or on rugged terrains. They are usually larger and have more powerful engines than trail bikes. Motocross bikes are typically more difficult to control and are better suited for a more experienced rider in order to operate safely.
Dual-Sport Bikes
As the name implies, dual-sport bikes are a cross between a trail bike and a motocross bike. They are designed for both off-road trails and paved surfaces like streets. These bikes usually have suspension forks and dual brakes, but they do not have knobby tires like trail bikes do.
There are other more advanced, niche types of dirt bikes, but those generally are not the best option for a youth dirt bike. Little dirt bikes are a great choice for children learning to ride because they are smaller and easier to control than large motocross bikes.
Deciding on a Kids Dirt Bike
Once you have determined what type of bike you are looking for you can start looking at options based on your price range. There are a couple of different factors that will affect the cost of a dirt bike, including its size, power, quality of the bike, and features it includes.
As a general rule, larger bikes and those that come with more features will be more expensive. However, it is still possible to find a great-quality bike that falls within your budget as long as you do some research before you start shopping.
Another thing to consider when purchasing a bike for your little one is how much experience they have with riding in general. Some bikes may be better for younger riders than older ones because they are easier to handle and don't have as many advanced features that could potentially confuse them while they are learning.
That being said, the quality and durability of the bike are important factors to consider when purchasing a kids dirt bike for your child. Even if you don't want more advanced rider features, you still want to choose a model that has a good reputation for quality and reliability. After all, it has to stand up to the wear and tear it will experience.
Of course, the safety features of a kid's dirt bike you are considering for your child are extremely important. This is especially true if they are a beginner rider who is still learning how to handle the bike themselves. Many bikes come with safety features that help keep them from getting hurt in case they lose control or if they fall off the bike. Things like brakes, hand guards, adjustable handlebars, and foot pegs are all examples of safety features you should look for when choosing dirt bikes for kids.
Now that you have a better idea of what to look for in a child's dirt bike you can narrow down your options and start shopping for the right one for your needs and budget.
Before you decide to make a purchase, you are going to want to have the proper riding gear on hand before you or your child decide to hop on a dirt bike. At Typhoon Helmets, we have everything you need to enjoy a safe and fun riding experience. Check out our selection of youth and adult helmets and gear. We always recommend wearing a helmet and all of the proper safety equipment when riding a dirt bike.
---